About
After having her second son, Angela decided to follow her passions and left her corporate sales job to build a business helping other women, like her, to balance taking care of themselves and everything else. 
Based on the Main Line, Angela is a Certified Nutritionist, Certified Personal Trainer and Menstrual Cycle Educator who specializes in women's personal training, nutrition coaching and cycle syncing.
What is cycle syncing you ask? Learn more here.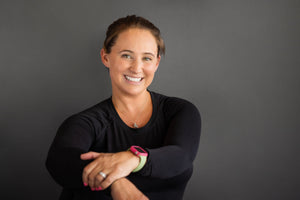 Your Success is My Goal
Angela's approach is impactful because it is PERSONALIZED.

While other personal trainers try to get as many clients as possible, Angela focuses on the personal touch. Angela meets with her clients, reaches out throughout the day to check in as well as creates personalized and custom meal plans, grocery lists and workouts.

Lamsback on Location is the perfect partner for the everyday mom who wants to feel better in their body. For the mom who wants to feel confident when they get dressed for date night, when naked in the bedroom, or even just when they throw their jeans and a shirt on.

It's not about being perfect, it's about feeling good and focusing on progress, not perfection!!

Angela is kind and compassionate and knows when to push you! It's time to have someone take care of you while you take care of EVERYTHING else.

Angela Lamsback, a dedicated mom, has made it her mission to empower other moms and help them achieve their best selves. Throughout her own personal struggles with weight issues and painful periods, she discovered effective solutions and cured herself. Motivated by her own transformative journey, Angela decided to leave her corporate career as a Sales professional, which involved extensive travel, and fully commit to her passions.
Angela's Approach
With her expertise and experience, Angela has successfully partnered with numerous moms, guiding them to feel their best through customized fitness programs, focused nutrition plans, and teaching them how to work harmoniously with their bodies rather than against them. Her approach emphasizes progress over perfection, recognizing that women have numerous responsibilities and constantly changing schedules.

She understands that life's challenges can sometimes hinder progress towards goals, and she reassures her clients that it's okay to have setbacks. Angela firmly believes that even if someone has indulged in more cake than intended or faced temporary setbacks, it's important to embrace the learning experience and move forward. She actively collaborates with her clients to develop effective tools and strategies that will support them in the future. Angela's primary focus lies in creating small, sustainable habits that have a significant impact in the long run, rather than striving for immediate perfection.

By adopting Angela's philosophy of progress over perfection, moms can find solace in the fact that every step forward, regardless of its size, is a step in the right direction. Angela is dedicated to providing the guidance and support needed for her clients to achieve their goals while maintaining a balanced and fulfilling life. Angela Lamsback offers a comprehensive 1:1 coaching program designed to support moms in their journey towards optimal health and well-being. The program includes a range of valuable features and benefits tailored to each individual's specific needs.

Here are the details:
Angela's 1:1 coaching program provides holistic support, combining personalized workout plans, tailored meal plans, regular communication, and goal-oriented guidance. By investing in this program, you can expect to receive individualized attention and resources that will empower you to make sustainable lifestyle changes and unlock your full potential.

Angela Lamsback also offers a group coaching program designed to provide support and guidance to moms at a more affordable price point. Here are the details of the group coaching program:
The group coaching program offers a more cost-effective option while still providing valuable resources, guidance, and support from Angela. With weekly check-ins, question submissions, personalized workout plans, individual monthly calls, and a supportive community, participants can expect to receive comprehensive support to help them on their wellness journey.